Winifred School District initiated a soft lockdown of our campus today beginning at 8:30 am and continuing until 1 pm. Superintendent Fordyce was made aware of a situation that occurred in a business in town and determined that there was potential for an external threat. The Fergus County Sheriff's department was contacted and after further consultation it was determined that there was no need for further safety measures. Please contact Chad Fordyce or Kristin Carlstrom with any questions or concerns.

JH Basketball Tournament starts Friday March 31 - Boys in Geyser at 3:00 Girls in Stanford at 4:00 GOOD LUCK OUTLAWS!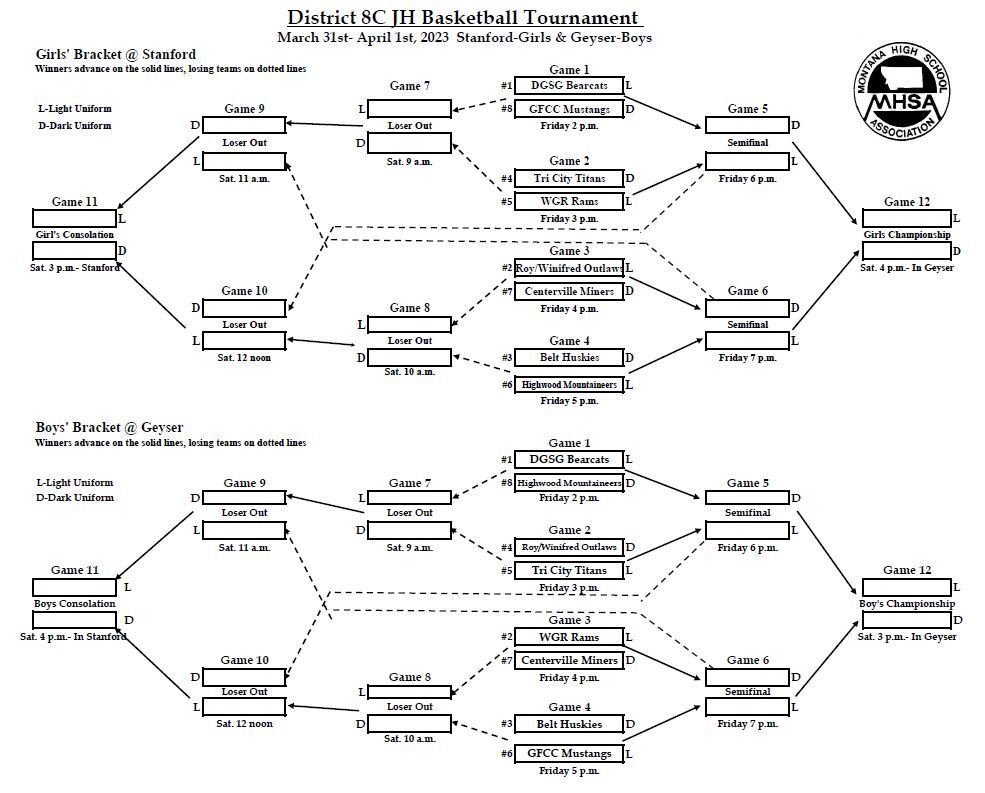 THE WINIFRED SCHOOL WILL ACCEPT APPLICATIONS FOR THE FOLLOWING POSITIONS: Janitor Elementary Teacher LETTER OF INTEREST WILL BE ACCEPTED UNTIL FILLED APPLY TO: WINIFRED SCHOOL DISTRICT SUPERINTENDENT CHAD FORDYCE PHONE- 462-5420 or
cfordyce@winifred.k12.mt.us

Junior High Basketball Jamboree Saturday March 25th @ Winifred. Games begin at 11:00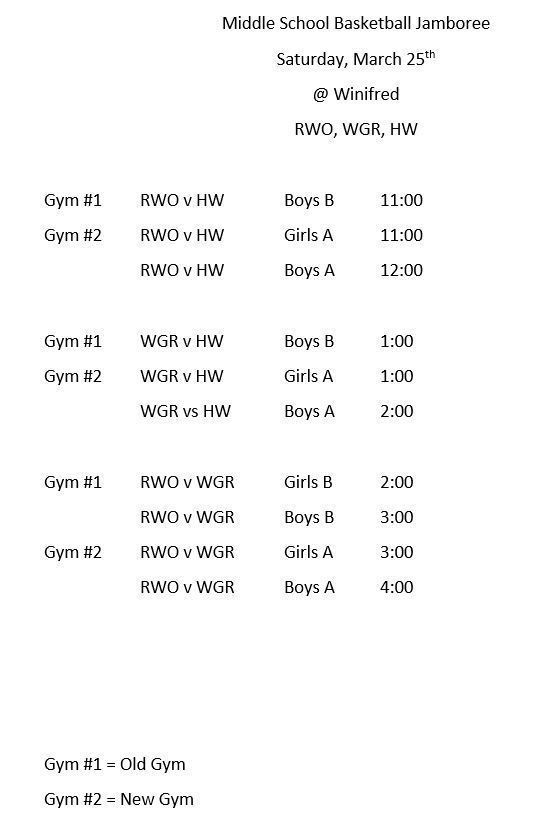 The 2023 District 8C JHBB Tournaments will be held once again in Stanford & Geyser March 31st & April 1st. Girls will play in Stanford and Boys in Geyser. Championships (Boys & Girls) in Geyser on Saturday 3 p.m. Boys/ 4 p.m. Girls. Consolation Games in Stanford-Girls @ 3 p.m./Boys @ 4 p.m. Watch for the Final bracket to be out Monday, March 27th.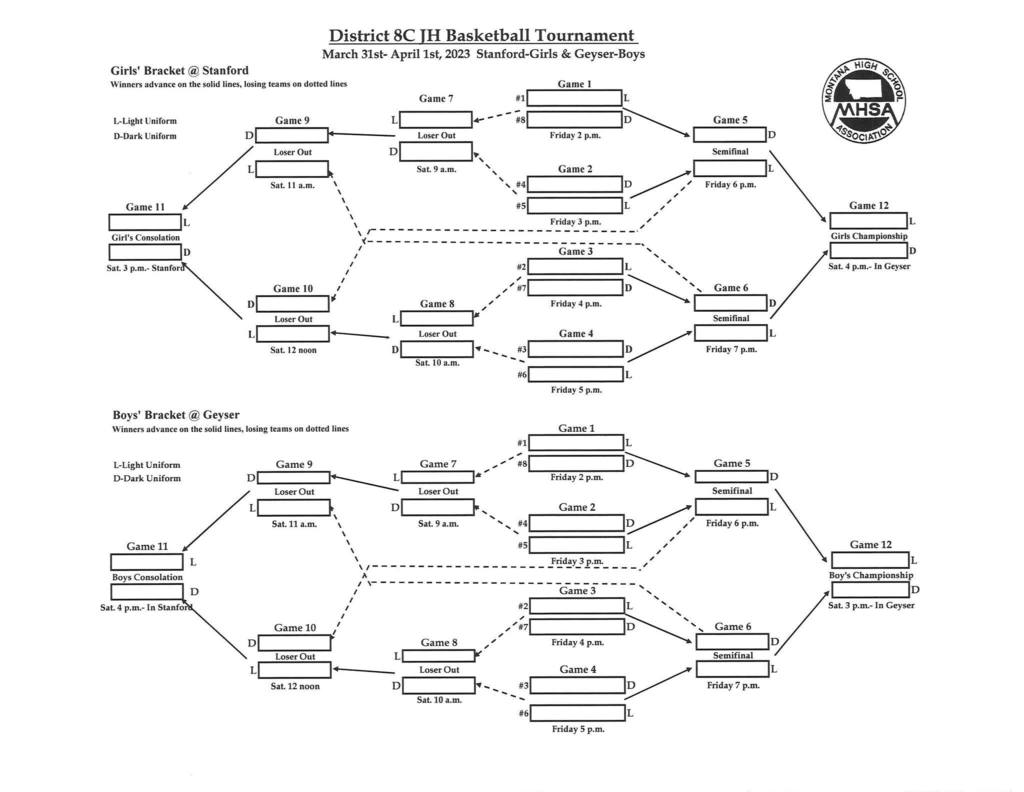 Winifred School will be in session on Thursday April 6th to account for lost aggregate hours due to school cancellations. Please contact the office with any questions or concerns. We apologize for any inconvenience.

Due to the expected snow accumulations and severe weather forecast for central Montana tomorrow we regret we will be cancelling PE Day tomorrow March 15. School will be in session with regularly scheduled classes. Buses will also run regular times. Parents that have paid for their students' activities will be refunded. Sincerely, Chad Fordyce

Game times for Junior High Basketball games in Belt Saturday March 18 (see attached picture)

1st day of High School Track practice - Tomorrow - Tuesday March 14

GOOD LUCK TO OUR LADY OUTLAWS TODAY @ 3:00 VS PLENTYWOOD

DUE TO THE WEATHER CONDITIONS WE HAVE CANCELED TOMORROWS JUNIOR HIGH BASKETBALL GAME IN WINNETT

The game time for tomorrow's Junior High Basketball game in Winnett will be as follows- Girls B-9:00, Girls A-10:00, Boys B-11:00 and Boys A- 12:00

Friday March 10 Junior High Basketball Game VS Great Falls Central Catholic has been canceled.

NO SCHOOL FRIDAY MARCH 10! Congratulations to our Lady Outlaws on their win tonight. They will see Twin Bridges Thursday March 9 at 6:30 at the Metra in Billings. LETS GO OUTLAWS!!

Fergus County Sheriff's Association is holding an Easter Egg Hunt Saturday March 18 at 10:00 am at the Winifred Baseball park

THE LADY OUTLAWS HEAD TO STATE TOMORROW WEDNESDAY MARCH 8! LETS HELP SEND THEM IN STYLE, LINE THE STREETS TO SHOW YOUR SUPPORT! THEY LEAVE THE SCHOOL AT 10: 30 A.M.

There will be NO SCHOOL Thursday March 9 - An Outlaw win on Wednesday or Thursday will cancel school Friday March 10! Good Luck Lady Outlaws.

GOOD LUCK AT STATE LADY OUTLAWS- 1st game Wednesday 4:30 VS Plentywood at the Metra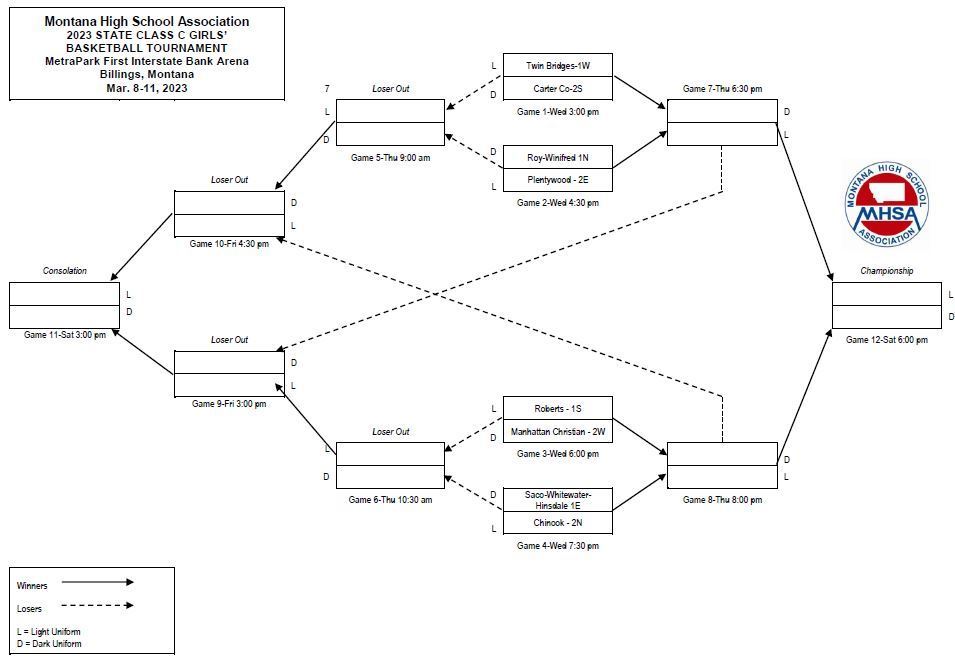 State Basketball tickets will be available to purchase on line at
www.metrapark.com
Monday March 6 at 10:00 am, and will also be available for purchase at the door. Adult all session - $41 Student all session $25 Individual Session passes are also available.

POTLUCK PEP RALLY - Let's gather to send our Lady Outlaws off to State and to honor our boys basketball team on an awesome season! Monday March 6 at 6:00